VIDA is the first international competition dedicated to art and artificial life. During its 15 years of existence, VIDA has awarded more than 200 projects in this discipline. In the first editions dominated robotics projects, cellular automata and chaotic algorithms and, at the present, there is a particular interest in examining the impact of biotechnology, environmental issues and the dynamics of information networks.
Prominent personalities in the contest congratulate VIDAfor its 15th anniversary:
> MARTIN KALTENBRUNNER
Martin Kaltenbrunner is s Professor at the Interface Culture Lab at the University of Art and Design in Linz (Austria) and co-founder of Reactable Systems. He was a member of the jury in  VIDA 14.0 and VIDA 15.0

"At the first sight an electronic musical instrument may not seem to have a direct connection to the field of Artificial Life, nevertheless the Reactable symbols are not only called Amoebas because of their particular organic appearance. Since the precise generation of our Fiducial Symbols is a rather complex process, we developed a dedicated genetic algorithm that eventually optimizes each marker towards its ideal form and function."
"To illustrate this process, this short animation of such a symbol struggling to achieve its optimal shape, is my contribution to celebrate VIDA's 15th anniversary with you. VIDA has become one of the most important platforms for an artistic community that deals with art and science in its various forms. Hence the toolsets and techniques of our contemporary artistic practice are not only limited to virtual cybernetic methodologies, but have been physically extending to a much broader scope of disciplines such as material sciences and biotechnology, which has been greatly reflected by the contributions to VIDA during the past years"
> NELL TENHAAF
Nell Tenhaaf is an electronic media artist and writer. She is co-founder of VIDA Art and Artificial Life International Awards and member of the jury since their inception. Tenhaaf is a Professor in the Visual Arts department of York University in Toronto, Canada.
"During many long days in the Telefonica offices, and many long evenings over meals, VIDA juries have debated about what characterizes A-life art. The greatest thing about this 15-year process is that it is unpredictable, organic, emergent – it exemplifies all of the key characteristics that we see in the VIDA projects themselves. I think of it as exploring an always refreshing "search space" of creative activity, a broad scope of art making that is influenced by both new technologies and the life sciences.
VIDA juries are amazing, variable groups of experts from different parts of the art milieu, who probe this space and each year gloriously argue toward consensus about winning projects. Manuel De Landa was on the first VIDA jury with us in 1999. At that time he had put forward in his writing some language for a very abstract idea about a "probe-head" that moves through search spaces of possibilities in a kind of automated way, shaping evolution – but at the same time, he's the first to acknowledge that, in art, human intervention is all about an overriding variability rather than any kind of automation. The jury as a sorting device? I think that's both a yes and a no."
> REJANE CANTONI Y LEONARDO CRESCENTI
Rejane Cantoni and Leonardo Crescenti are artists and researchers who focus on semiotics, human-computer interaction, virtual reality, and the connections between art, science and technology. Their work has been awarded in VIDA 13.2. Cantoni has been a jury member in VIDA 15.0.
"From our hearts, we are very thankful to VIDA because it allowed us to further develop SPEAK, which received an Artistic Production Incentive in VIDA 13.2. The installation was initially presented at the Festival internacional de la imagen, in Manizales, Colombia in 2011. After that SPEAK has being invited to be exhibited at:
– National Art Museum of China
– 516 ARTS
– Paço das Artes
– Centro Cultural da FIESP
– Espacio Fundación Telefónica (Chile)
– El Faro
– Sesc Santo André
– Itaú Cultural
That is, SPEAK has being talking a lot!
> FRANCE CADET
France Cadet is a digital and robotics artist and Full-time Associate Professor and Chair of the Art and Technology Studies department at The School of the Art Institute of Chicago. She received the First Prize in VIDA 6.0 for her installation  Dog[LAB]01. The map below shows the locations in which this installation has been exhibited since then.
France Cadet Congratullation:
> ERWIN DRIESSENS Y MARIA VERSTAPPEN
Erwin Driessens y Maria Verstappen have worked together since 1990 as artists focusing on the possibilities that physical, chemical and computer algorithms can offer for the development of image generating processes. Their robotic work Tickle received the First Prize in the first edition of the prize VIDA 2.0, and its following version, Tickle Salon, received the First Prize in VIDA 5.0.
"It is a great moment to congratulate VIDA! For initiating this outstanding award and for organizing this for already 15 years!
We were so happy to receive the prize the first year, back in 1999, for our Tickle robot. And again in 2002 for our Tickle Salon. The awards and the publicity around it, have generated a lot of attention for the work world wide.
Each year I'm curious to see who are the winners of the new edition, and it is always surprising to see the innovations and new approaches to the thematic of Art and Artificial Life.
We wish the VIDA award a good future with many wonderful editions ahead!"
> TOM BARBALET
Tom Barbalet is a software developer specialised in autonomous simulations and Artificial Life. He is the creator of the Noble Ape Simulation and the founder and editor of  Biota. The Artificial Life Project,

which has supported the VIDA Awards during many years.
"¡Hello, VIDA folk!
As an ambassador for Artificial Life, VIDA has just done an astonishing work. And this is only in fifteen years. My anticipation in fifteen years time is that VIDA will have a far greater reach and have brought in a far richer group of folk. And they've already brought in a lot of really interesting people.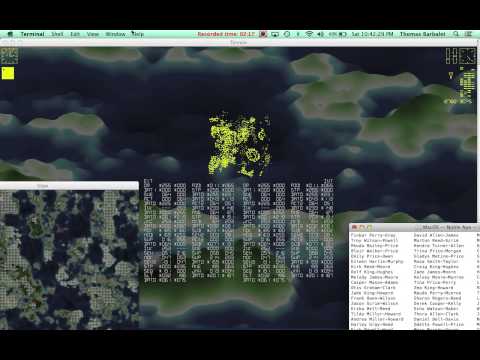 So I want to say "hats off" to the VIDA community, congratulations for an amazing 15 years. And I'm really looking forward, in fifteen years time, recording a thirty year anniversary congratulations to the VIDA community, because I think by then it will be truly astounding what the community has created. I'd like to thank you all for creating such a rich tapestry of visual and intellectual creative folk, and I'm really looking forward to seeing what comes in the future. And thank you for the opportunity to send my congratulations as well.
Anyway, this is Tom Barbalet. Noble Ape, is the displayed visual, the artificial life simulation that I've been working on since 1996, maybe slightly older than VIDA but only by a couple of years. In the San Francisco Bay Area, signing out."
> KEN RINALDO
Ken Rinaldo is an interdisciplinary artist and theorist who has achieved international recognition for his interactive robotics and bio art installations. He is the director of the Art and Technology program in the Department of Art at The Ohio State University in Columbus Ohio. His installation Autopoiesis was distinguished with the First Prize in  VIDA 3.0.
"In the realms of Art, Science and Technology there are few places such as Telefónica world wide, that freely support innovative thinking, cutting edge art and science research. My involvement with Telefónica and VIDA became the trunk of a tree, leading to many new branches of research and inquiry at the intersections of Artificial life, Art, robotics and Science."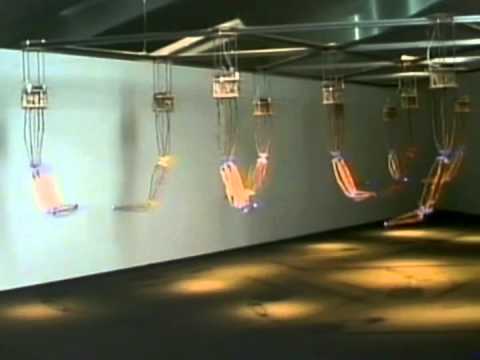 > ANDY GRACIE
Andy Gracie is an artist whose work is focused on the interaction between organic and inorganic systems by using organic cultures as processing systems for artificially generated data. His work has been awarded an Honorary Mention in VIDA 9.0 and an Artistic Production Incentive in VIDA 11.0.
"After running the first of two sessions of my 'polvo de estrellas' workshop for Experimenta VIDA, I have been really impressed by the dedication of Fundación Telefónica to offering such a full program of stimulating creative technology workshops, that are also FREE, to young people. VIDA over the years has been a genuinely important project within the arts and cultural scene."
> KERSTIN ERGENZINGER
Kerstin Ergenzinger's work focuses on the conditions of perception of space by creating installations that address subtle forms of interaction. She has been awarded the First Prize in VIDA 15.0 for her installation Rotes Rauschen.
"Besides supporting experimental arts tremendously, VIDA provokes to think about the essence of life seriously. Furthermore, the pool of artists collected by VIDA during the years are great food for thought and inspiration."
> CHRISTA SOMMERER Y LAURENT MIGNONNEAU
Christa Sommerer and Laurent Mignonneau are leading figures of interactive art whose work and research on interface culture and participatory art has gained worldwide recognition. They received an Honorary Mention in  VIDA 3.0 por the installation Life Spacies II.
"DEAR VIDA:
HAPPY BIRTHDAY!!
Thank you for supporting Art with Life and Life with Art. Keep Reproducing and Proliferating!
Yours thankfully!"